The Competitive Advantage
Our commitment to excellence, nationwide coverage, and passion for dance make advertising in The Competitive Advantage an outstanding media opportunity.
The Competitive Advantage is:
Advertising vehicle that reaches 25,000+ highly targeted studios
A one-stop shop for all ADCC competition events
A communications piece for the ADCC featuring our College Dance Scholarship recipients and Studio of Excellence winners.

The ADCC plans to publish three issues in 2022—July, August, and September.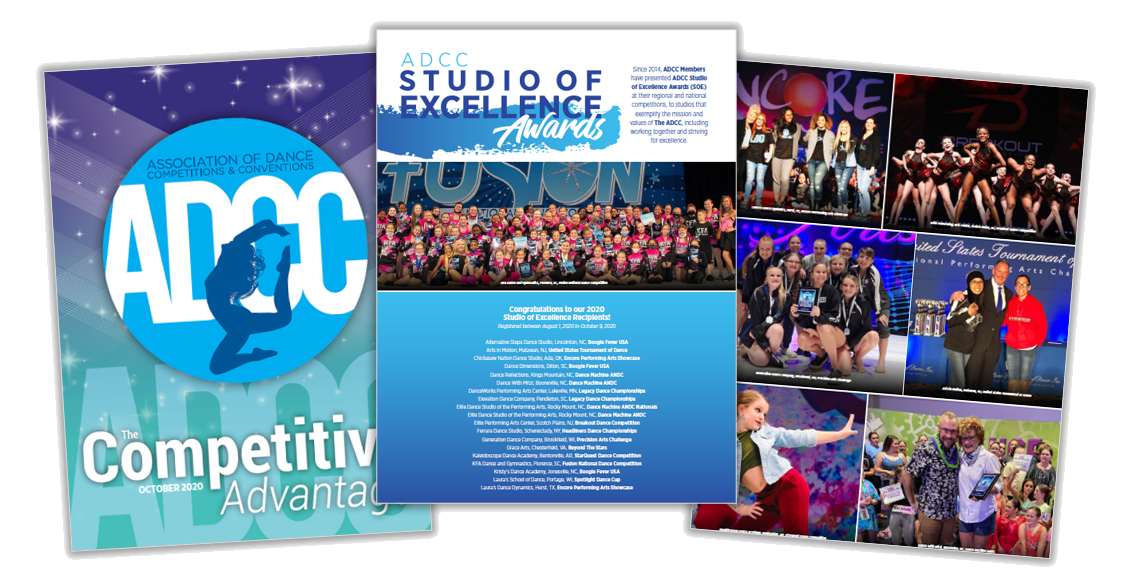 2022 Advertising Rates for The Competitive Advantage
Because of the COVID-19 pandemic, the 
ADCC
has continued to reduce the price of advertising for 2022. The ADCC is offering a 2022
EARLY BIRD SPECIAL
 for members who commit to advertising in all three issues by registering and paying by 
March 1, 2022
.
Early Bird advertising is $4,400 for all three issues only—which is $1,600 off the regular price.
REGULAR advertising rates (to be paid by May 15, 2022)
 are as follows:
THREE issues:  $6,000
TWO issues:  $4,000
SINGLE issue:  $2,000
You may complete Competitive Advantage advertising registration on the form below, which will automatically invoice you for the package you select.
Questions?
 Please contact ADCC Administrative Manager 
Erin Hart
 at
erin@theadcc.org
, or call 
(612) 532-2532.
PLEASE NOTE: ALL 2022 ADVERTISING FEES MUST BE PAID BY MAY 15, 2022.
Submitting ads is easy. Just fill in the form and upload your Competitive Advantage ads at Inside Publications Upload Page:
Questions about The Competitive Advantage?
Ad Deadlines | Artwork Specs